Monday, 23 April 2012 - 20:00
Charts
Top News
South Africa's rand fell nearly one percent against the dollar on Monday as emerging market currencies were sold in favour of the safer dollar in a risk-averse environment, putting the rand back in line with its peers after a week of out performance on domestic factors.

---

George Zimmerman, the former neighbourhood watch volunteer charged with second-degree murder in the killing of unarmed black teenager Trayvon Martin, was released early on Monday from a Florida county jail on $150,000 bail.

The Dutch government will resign on Monday in a crisis over budget cuts, spelling the end of a coalition which has strongly backed a European Union fiscal treaty and lectured Greece on getting its finances in order.
---
Following the announcement by Old Mutual plc (the "Company") on 21 March 2012 regarding the completion of the sale of the Skandia Nordic business to Skandia Liv and the announcement on 9 March 2012 regarding the special dividend, final dividend and share consolidation, the company's share consolidation will become effective today. Applications have been made to the UK Listing Authority to amend the official list and to the LSE to amend the details of the company's shares for trading purp. . .
Company Results
Contract revenue declined to R272.9 million (R386.6 million). Gross profit decreased to R29.1 million (R43.8 million) and operating profit more than halved to R5.9 million (R18.7 million). Net attributable profit slumped to R0.2 million (R12.3 million). In addition, headline earnings per share sunk to 0.1c (6cps). Outlook The general economy, and in particular the construction sector, is starting to show signs of recovery. Prospects appear more promising than 18 months ago and B&W i. . .
World Markets (Spot Prices)
| | | | | |
| --- | --- | --- | --- | --- |
| Name | Time | RP | Move | % Move |
| JSE Overall | 17:00 | 33703.21 | -513.34 | -1.50% |
| JSE Top 40 | 17:00 | 29686.12 | -499.65 | -1.66% |
| JSE Gold | 17:00 | 2178.18 | -24.24 | -1.10% |
| JSE Financial | 17:00 | 24721.07 | -416.07 | -1.66% |
| JSE Industrial | 17:00 | 38127.88 | -437.08 | -1.13% |
| JSE Indust 25 | 17:00 | 32033.87 | -378.87 | -1.17% |
| JSE Resource | 17:00 | 48817.29 | -970.33 | -1.95% |
| DJ Futures | 19:50 | 12830.00 | -158.00 | -1.22% |
| DJ Ind | 19:41 | 12888.76 | -140.50 | -1.08% |
| SP 500 | 19:56 | 1364.29 | -14.24 | -1.03% |
| Nasdaq | 19:56 | 2964.48 | -35.97 | -1.20% |
| FTSE 100 | 17:35 | 5665.57 | -106.58 | -1.85% |
| DAX | 18:06 | 6523.00 | -227.12 | -3.36% |
| CAC40 | 18:06 | 3098.37 | -90.21 | -2.83% |
| Nikkei | 08:26 | 9542.17 | -19.19 | -0.20% |
| Shanghai | 09:26 | 2388.59 | -18.28 | -0.76% |
| Hang-Seng | 10:26 | 20624.39 | -386.25 | -1.84% |
| All Ords | 08:40 | 4430.30 | -14.10 | -0.32% |
| NZSE 50 | 07:46 | 3513.45 | -2.78 | -0.08% |

| | | | | |
| --- | --- | --- | --- | --- |
| Name | Time | RP | Move | % Move |
| Gold | 19:59 | 1634.50 | -6.19 | -0.38% |
| Gold/Rand | 19:58 | 12848.44 | 12848.44 | 0.00% |
| Gold/R kg | 19:56 | 413083 | 1212 | 0.29% |
| Silver | 19:59 | 30.6690 | -.9680 | -3.06% |
| Platinum | 19:59 | 1554.50 | -24.50 | -1.55% |
| Palladium | 19:59 | 669.50 | -4.20 | -0.62% |
| R157 | 17:06 | 6.52 | .08 | 1.16% |
| R204 | 17:06 | 7.36 | .06 | 0.75% |
| Brent Crude | 19:56 | 118.30 | -.19 | -0.16% |
| Rand / Dollar | 19:59 | 7.8631 | 0.0593 | 0.76% |
| Rand / Pound | 19:55 | 12.6380 | 0.0687 | 0.55% |
| Rand / Euro | 19:55 | 10.3267 | 0.0191 | 0.19% |
| Rand / NZD | 19:58 | 6.3862 | 0.0053 | 0.08% |
| Rand / AUD | 19:55 | 8.1013 | -0.0077 | -0.09% |
| Yen / Dollar | 19:58 | 81.0900 | -0.4880 | -0.60% |
| Euro / Dollar | 19:55 | 0.7610 | 0.0032 | 0.42% |
| Dollar / Euro | 19:59 | 1.3135 | -0.0057 | -0.43% |
| Pound / Dollar | 19:55 | 0.6202 | 0.0005 | 0.08% |
Click here for the Sharenet Spot Price page
The JSE Today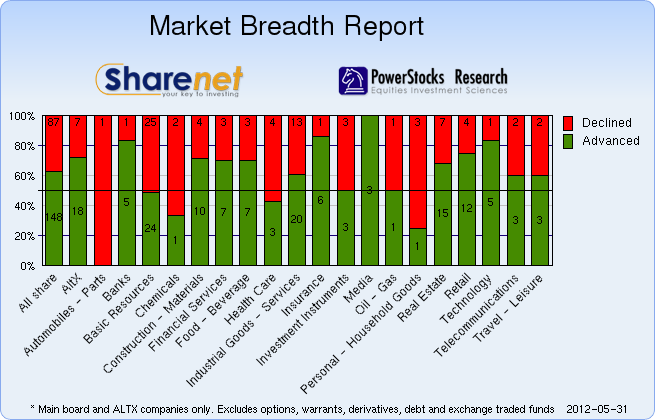 Trading Statistics
| Date | Adv. | Decl. | Unch. | Actives | Volume | Value | Trades | Orders |
| --- | --- | --- | --- | --- | --- | --- | --- | --- |
| 23/04/2012 | 88 | 243 | 71 | 402 | 204,113,275 | R11,320,174,796 | 82413 | 2858692 |
| 20/04/2012 | 195 | 119 | 93 | 407 | 269,085,600 | R14,135,784,647 | 101126 | 2688673 |
| 19/04/2012 | 168 | 151 | 76 | 395 | 229,816,222 | R13,336,662,825 | 96441 | 2527578 |
| 18/04/2012 | 203 | 118 | 80 | 401 | 199,632,859 | R12,760,927,679 | 82566 | 1477805 |
| 17/04/2012 | 186 | 140 | 79 | 405 | 230,459,376 | R13,103,586,330 | 89562 | 2438894 |
* Includes all listed instruments on the JSE
---
---
---
Index Summary
| | | | |
| --- | --- | --- | --- |
| Index Name | RP | Move | % Move |
| Top 40 | 29,686.12 | -499.65 | -1.66% |
| Industrial | 38,127.88 | -437.08 | -1.13% |
| Mid Cap | 48,757.20 | -409.27 | -0.83% |
| Small Cap | 36,165.69 | -147.22 | -0.41% |
| Resource 20 | 48,817.29 | -970.33 | -1.95% |
| Industrial 25 | 32,033.87 | -378.87 | -1.17% |
| Financial 15 | 9,284.69 | -188.35 | -1.99% |
| Financial & Ind. 30 | 35,343.85 | -529.96 | -1.48% |
| All Share | 33,703.21 | -513.34 | -1.50% |
| Oil & Gas | 27,503.92 | -261.08 | -0.94% |
| Mining | 31,360.91 | -674.66 | -2.11% |
| Gold Mining | 2,178.18 | -24.24 | -1.10% |
| Platinum Mining | 55.68 | -.76 | -1.35% |
| GENERAL MINING | 8,121.84 | -204.56 | -2.46% |
| Oil & Gas Producers | 14,788.35 | -140.38 | -0.94% |
| Basic Materials | 26,889.50 | -573.14 | -2.09% |
| Chemicals | 15,201.77 | -24.31 | -0.16% |
| Forestry & Paper | 14,066.15 | -209.24 | -1.47% |
| Industrial Metals | 29,944.03 | -849.59 | -2.76% |
| Industrials | 32,816.23 | -403.52 | -1.21% |
| General Industrials | 88,407.69 | -1033.53 | -1.16% |
| Consumer Goods | 32,936.28 | -480.18 | -1.44% |
| Automobiles & Parts | 6,046.10 | -56.62 | -0.93% |
| Household Goods | 181.73 | -4 | -2.16% |
| Health Care | 42,650.35 | 242.08 | 0.57% |
| Beverages | 110.99 | -1.13 | -1.01% |

| | | | |
| --- | --- | --- | --- |
| Index Name | RP | Move | % Move |
| Food Producers | 60,074.11 | -384.89 | -0.64% |
| Personal Goods | 463.53 | -12.78 | -2.68% |
| Consumer Services | 66,429.90 | -907.08 | -1.35% |
| General Retailers | 54,381.38 | -952.26 | -1.72% |
| Travel & Leisure | 3,831.63 | -26.40 | -0.68% |
| Media | 99.77 | -.94 | -0.93% |
| Support Services | 2,397.73 | -5.04 | -0.21% |
| Telecommunications | 66,878.80 | -91.62 | -0.14% |
| Financials | 24,721.07 | -416.07 | -1.66% |
| Banks | 46,978.31 | -1105.55 | -2.30% |
| Non-life Insurance | 43,711.89 | 176.11 | 0.40% |
| Life Insurance | 19,295.67 | -399.29 | -2.03% |
| General Financial | 2,323.70 | -41.04 | -1.74% |
| Technology | 28,347.35 | -50.10 | -0.18% |
| SHARIAH TOP40 | 2,997.27 | -53 | -1.73% |
| FTSE/JSE SHARIAH ALL | 3,120.84 | -52 | -1.64% |
| COAL MINING | 27,009.00 | -520 | -1.89% |
| FTSE JSE Fledgling | 5,409.31 | 12 | 0.23% |
| FTSE/JSE Alt X | 1,270.79 | 11 | 0.88% |
| SA LISTED PROPERTY | 415.20 | | -0.01% |
| CAPPED PROPERTY | 336.24 | | -0.32% |
| RESOURCE | 26,905.47 | -530 | -1.93% |
| DIVIDEND PLUS | 196.35 | -3 | -1.28% |
| FTSE/JSE RAFI 40 | 6,993.21 | -119 | -1.68% |
| Capped Top 40 | 15,663.33 | -257 | -1.62% |
| Capped All Share | 17,048.14 | -258 | -1.49% |
| JSE TABACO | 5,185.41 | -15 | -0.29% |
Click here for the Sharenet Index Summary page
---
Latest Consensus Changes**

| | | | |
| --- | --- | --- | --- |
| Code | Company Name | Status | Updated |
| BTI | BRITISH AM. TOBACCO PLC | BUY | 19 Apr |
| BIL | BHP BILLITON PLC | BUY | 19 Apr |
| PIK | PICK N PAY STORES LIMITED | SELL | 19 Apr |
| NED | NEDBANK GROUP LTD | HOLD | 18 Apr |
| SBK | STANDARD BANK GROUP LIMIT... | SELL | 18 Apr |

Results Expected**

| | | |
| --- | --- | --- |
| Expected | Company Name | Fin. Date |
| 24 Apr 2012 | ASTRAPAK | February 2012 (Final) |
| 24 Apr 2012 | ASTRAPAKP | February 2012 (Final) |
| 25 Apr 2012 | ALTECH | February 2012 (Final) |
| 25 Apr 2012 | CMH | February 2012 (Final) |
| 25 Apr 2012 | CMH PREF | February 2012 (Final) |
---
Recent Dividends**

| | | | | |
| --- | --- | --- | --- | --- |
| Share Name | Dec-Date | LDT | Pay-Date | Amount |
| PHUMELELA | 12-04-19 | 12-05-18 | 12-05-28 | R 0.2500 |
| PREMIUM | 12-04-19 | 12-05-11 | 12-05-21 | R 0.6000 |
| OCTODEC | 12-04-19 | 12-05-11 | 12-05-21 | R 0.7120 |
| PICKNPAY | 12-04-18 | 12-06-01 | 12-06-11 | R 1.0835 |
| PIKWIK | 12-04-18 | 12-06-01 | 12-06-11 | R 0.5257 |

Ex Div**

| | | | | |
| --- | --- | --- | --- | --- |
| Share Name | Dec-Date | LDT | Pay-Date | Amount |
| LIB-HOLD | 12-04-02 | 12-04-19 | 12-04-30 | R 2.2100 |
| TRUWTHS | 12-04-03 | 12-04-19 | 12-04-30 | R 1.6900 |
| SANLAM | 12-03-08 | 12-04-19 | 12-05-09 | R 1.3000 |
| SHOPRIT | 12-04-02 | 12-04-19 | 12-04-30 | R 1.0900 |
| A-V-I | 12-04-02 | 12-04-19 | 12-04-30 | R 0.8300 |
---
Upcoming AGMs**

| | | | |
| --- | --- | --- | --- |
| Code | Company Name | Date | Status |
| MTL | Mercantile Bank Holdings Ltd. | 23/04/2012 | Confirmed |
| MTLP | Mercantile Bank Holdings Ltd. | 23/04/2012 | Confirmed |
| ABSP | Absa Bank Ltd. | 24/04/2012 | Confirmed |
| JSE | JSE Ltd. | 25/04/2012 | Confirmed |
| ZSA | Zurich Insurance Company South Africa Lt... | 25/04/2012 | Confirmed |
---
Stock Exchange News Service
Click here for more SENS news
---