Friday, 13 April 2012 - 20:00
Charts
Top News
Former Colombian finance minister Jose Antonio Ocampo is set to withdraw his nomination for the World Bank presidency on Friday in an agreement among emerging and developing countries to coalesce around one nominee, three sources said.

---

North Korea said its much hyped long-range rocket launch failed on Friday, in a very rare and embarrassing public admission of failure by the hermit state and a blow for its new young leader who faces international outrage over the attempt.

Soldiers in Guinea-Bissau have detained former prime minister and presidential election front-runner Carlos Gomes Junior in West Africa's second military power grab in a month, political and diplomatic sources said.
Company Results
Blackstar declared their maiden final results for the year ended 31 December 2011. Revenue for the year ended 31 December 2011 was GBP91.1 million, gross profit came in at R12.2 million, loss from operations was GBP10.9 million, while loss for the period attributable to equity holders of the parent was recorded as GBP7.6 million. Furthermore, headline loss per ordinary share was GBP7.34ppc. Current trading and outlook New capital regulatory requirements, including those of Basel 3,. . .
World Markets (Spot Prices)
| | | | | |
| --- | --- | --- | --- | --- |
| Name | Time | RP | Move | % Move |
| JSE Overall | 17:00 | 33705.03 | -111.93 | -0.33% |
| JSE Top 40 | 17:00 | 29721.32 | -143.52 | -0.48% |
| JSE Gold | 17:00 | 2286.69 | -27.51 | -1.19% |
| JSE Financial | 17:00 | 24836.22 | -24.96 | -0.10% |
| JSE Industrial | 17:00 | 37874.17 | -127.60 | -0.34% |
| JSE Indust 25 | 17:00 | 31722.76 | -149.95 | -0.47% |
| JSE Resource | 17:00 | 49073.09 | -196.48 | -0.40% |
| DJ Futures | 19:56 | 12855.00 | -80.00 | -0.62% |
| DJ Ind | 19:41 | 12932.39 | -54.19 | -0.42% |
| SP 500 | 19:56 | 1378.39 | -9.18 | -0.66% |
| Nasdaq | 19:56 | 3027.10 | -28.45 | -0.93% |
| FTSE 100 | 17:35 | 5651.79 | -58.67 | -1.03% |
| DAX | 18:06 | 6583.90 | -159.34 | -2.36% |
| CAC40 | 18:06 | 3189.09 | -80.70 | -2.47% |
| Nikkei | 08:26 | 9637.99 | 113.20 | 1.19% |
| Shanghai | 09:26 | 2359.16 | 8.30 | 0.35% |
| Hang-Seng | 10:26 | 20701.04 | 373.72 | 1.84% |
| All Ords | 08:40 | 4404.20 | 42.50 | 0.97% |
| NZSE 50 | 07:46 | 3487.17 | .08 | 0.00% |

| | | | | |
| --- | --- | --- | --- | --- |
| Name | Time | RP | Move | % Move |
| Gold | 19:59 | 1652.90 | -21.28 | -1.27% |
| Gold/Rand | 19:58 | 13118.29 | -49.58 | -0.38% |
| Gold/R kg | 19:56 | 421411 | -410 | -0.10% |
| Silver | 19:59 | 31.4200 | -.9220 | -2.85% |
| Platinum | 19:59 | 1580.50 | -18.00 | -1.13% |
| Palladium | 19:59 | 639.90 | -9.35 | -1.44% |
| R157 | 17:06 | 6.71 | .02 | 0.30% |
| R204 | 17:06 | 7.62 | .01 | 0.13% |
| Brent Crude | 19:56 | 121.20 | -.27 | -0.22% |
| Rand / Dollar | 19:59 | 7.9369 | 0.0730 | 0.93% |
| Rand / Pound | 19:55 | 12.5464 | 0.0262 | 0.21% |
| Rand / Euro | 19:55 | 10.3789 | 0.0080 | 0.08% |
| Rand / NZD | 19:58 | 6.5425 | 0.0332 | 0.51% |
| Rand / AUD | 19:55 | 8.2358 | 0.0228 | 0.28% |
| Yen / Dollar | 19:59 | 80.9890 | 0.1320 | 0.16% |
| Euro / Dollar | 19:55 | 0.7643 | 0.0062 | 0.82% |
| Dollar / Euro | 19:59 | 1.3077 | -0.0111 | -0.84% |
| Pound / Dollar | 19:55 | 0.6306 | 0.0042 | 0.67% |
Click here for the Sharenet Spot Price page
The JSE Today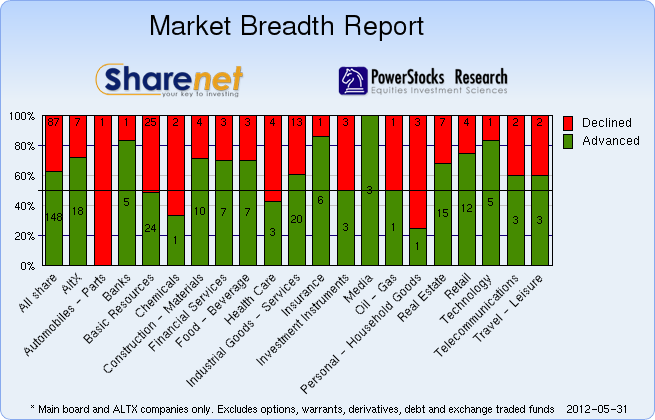 Trading Statistics
| Date | Adv. | Decl. | Unch. | Actives | Volume | Value | Trades | Orders |
| --- | --- | --- | --- | --- | --- | --- | --- | --- |
| 13/04/2012 | 138 | 197 | 65 | 400 | 247,573,222 | R14,173,274,907 | 94424 | 2679648 |
| 12/04/2012 | 195 | 142 | 74 | 411 | 242,286,043 | R15,346,476,947 | 110192 | 2786630 |
| 11/04/2012 | 153 | 176 | 88 | 417 | 279,528,789 | R14,741,923,052 | 106247 | 2657328 |
| 10/04/2012 | 159 | 167 | 87 | 413 | 224,071,342 | R14,947,206,687 | 107999 | 2506758 |
| 05/04/2012 | 193 | 139 | 75 | 407 | 232,371,780 | R13,841,369,385 | 114433 | 2955298 |
* Includes all listed instruments on the JSE
---
---
---
Index Summary
| | | | |
| --- | --- | --- | --- |
| Index Name | RP | Move | % Move |
| Top 40 | 29,721.32 | -143.52 | -0.48% |
| Industrial | 37,874.17 | -127.60 | -0.34% |
| Mid Cap | 48,461.63 | 209.06 | 0.43% |
| Small Cap | 36,139.45 | 38.02 | 0.11% |
| Resource 20 | 49,073.09 | -196.48 | -0.40% |
| Industrial 25 | 31,722.76 | -149.95 | -0.47% |
| Financial 15 | 9,393.13 | -18.42 | -0.20% |
| Financial & Ind. 30 | 35,270.06 | -154.82 | -0.44% |
| All Share | 33,705.03 | -111.93 | -0.33% |
| Oil & Gas | 27,651.48 | 49.18 | 0.18% |
| Mining | 31,586.51 | -185.28 | -0.58% |
| Gold Mining | 2,286.69 | -27.51 | -1.19% |
| Platinum Mining | 57.57 | .07 | 0.12% |
| GENERAL MINING | 8,060.68 | -45.62 | -0.56% |
| Oil & Gas Producers | 14,867.69 | 26.45 | 0.18% |
| Basic Materials | 27,061.55 | -143.79 | -0.53% |
| Chemicals | 14,971.81 | 127.96 | 0.86% |
| Forestry & Paper | 14,190.88 | -75.54 | -0.53% |
| Industrial Metals | 29,820.05 | 38.18 | 0.13% |
| Industrials | 33,311.27 | 128.12 | 0.39% |
| General Industrials | 89,785.40 | 97.36 | 0.11% |
| Consumer Goods | 32,863.59 | -259.45 | -0.78% |
| Automobiles & Parts | 5,774.37 | 22.65 | 0.39% |
| Household Goods | 184.03 | -1 | -0.67% |
| Health Care | 40,906.86 | 120.75 | 0.30% |
| Beverages | 108.79 | -.18 | -0.17% |

| | | | |
| --- | --- | --- | --- |
| Index Name | RP | Move | % Move |
| Food Producers | 59,609.09 | -60.64 | -0.10% |
| Personal Goods | 480.11 | -9.78 | -2.00% |
| Consumer Services | 65,487.40 | -130.26 | -0.20% |
| General Retailers | 54,226.67 | -31.96 | -0.06% |
| Travel & Leisure | 3,730.44 | -3.52 | -0.09% |
| Media | 97.87 | -.35 | -0.36% |
| Support Services | 2,402.56 | -4.87 | -0.20% |
| Telecommunications | 65,630.99 | -258.35 | -0.39% |
| Financials | 24,836.22 | -24.96 | -0.10% |
| Banks | 46,985.74 | 124.01 | 0.26% |
| Non-life Insurance | 42,241.81 | 130.17 | 0.31% |
| Life Insurance | 20,166.25 | -55.59 | -0.27% |
| General Financial | 2,308.55 | -19.25 | -0.83% |
| Technology | 28,185.32 | 41.96 | 0.15% |
| SHARIAH TOP40 | 3,011.36 | -20 | -0.65% |
| FTSE/JSE SHARIAH ALL | 3,134.65 | -15 | -0.48% |
| COAL MINING | 28,058.66 | -209 | -0.74% |
| FTSE JSE Fledgling | 5,391.78 | -43 | -0.80% |
| FTSE/JSE Alt X | 1,242.97 | -4 | -0.30% |
| SA LISTED PROPERTY | 409.48 | | 0.20% |
| CAPPED PROPERTY | 331.95 | | -0.12% |
| RESOURCE | 27,091.62 | -128 | -0.47% |
| DIVIDEND PLUS | 197.16 | -1 | -0.27% |
| FTSE/JSE RAFI 40 | 7,039.30 | -20 | -0.28% |
| Capped Top 40 | 15,686.10 | -75 | -0.47% |
| Capped All Share | 17,049.55 | -56 | -0.33% |
| JSE TABACO | 5,039.36 | -43 | -0.84% |
Click here for the Sharenet Index Summary page
---
Latest Consensus Changes**

| | | | |
| --- | --- | --- | --- |
| Code | Company Name | Status | Updated |
| EXX | EXXARO RESOURCES LIMITED | BUY | 11 Apr |
| ACL | ARCELORMITTAL SA LTD | HOLD | 11 Apr |
| NED | NEDBANK GROUP LTD | HOLD | 10 Apr |
| SBK | STANDARD BANK GROUP LIMIT... | SELL | 10 Apr |
| AIP | ADCOCK INGRAM HLGS LD | HOLD | 10 Apr |

Results Expected**

| | | |
| --- | --- | --- |
| Expected | Company Name | Fin. Date |
| 16 Apr 2012 | MAS | November 2011 (Q) |
| 16 Apr 2012 | PSG | February 2012 (Final) |
| 16 Apr 2012 | PSGFIN PREF | February 2012 (Final) |
| 17 Apr 2012 | DCENTRIX | February 2012 (Final) |
| 17 Apr 2012 | SEKJALOA | February 2012 (Interim) |
---
Recent Dividends**

| | | | | |
| --- | --- | --- | --- | --- |
| Share Name | Dec-Date | LDT | Pay-Date | Amount |
| VIVIDEND | 12-04-05 | 12-04-25 | 12-05-07 | R 0.2450 |
| ARROWA | 12-04-04 | 12-04-19 | 12-04-30 | R 0.0500 |
| ARROWB | 12-04-04 | 12-04-19 | 12-04-30 | R 0.0309 |
| CADIZ | 12-04-03 | 12-04-25 | 12-05-07 | R 0.5000 |
| ADVTECH | 12-04-03 | 12-04-19 | 12-04-30 | R 0.1650 |

Ex Div**

| | | | | |
| --- | --- | --- | --- | --- |
| Share Name | Dec-Date | LDT | Pay-Date | Amount |
| SHFINV-PREF | 12-04-03 | 12-04-13 | 12-04-23 | R 3.7400 |
| REMGRO | 12-03-15 | 12-04-13 | 12-04-23 | R 1.2600 |
| METAIR | 12-03-23 | 12-04-13 | 12-04-23 | R 0.7200 |
| RAINBOW | 12-02-21 | 12-04-13 | 12-04-23 | R 0.2800 |
| DELTA | 12-03-27 | 12-04-13 | 12-04-23 | R 0.2500 |
---
Upcoming AGMs**

| | | | |
| --- | --- | --- | --- |
| Code | Company Name | Date | Status |
| CIL | Consolidated Infrastructure Group Ltd. | 16/04/2012 | Confirmed |
| FCCP | Foord Compass Ltd. | 19/04/2012 | Confirmed |
| FCO | Foord Compass Ltd. | 19/04/2012 | Confirmed |
| FCOP | Foord Compass Ltd. | 19/04/2012 | Confirmed |
| CND | Conduit Capital Ltd. | 19/04/2012 | Confirmed |
---
Stock Exchange News Service
Click here for more SENS news
---