Wednesday, 29 February 2012 - 20:00
Charts
S.Africa's rand at 5-month high on yield pick up
By Xola Potelwa
JOHANNESBURG (Reuters) - The rand firmed nearly one percent on the dollar on Wednesday as risky assets gained from a cash injection from the European Central Bank, leading the local currency to shrug off a gaping trade deficit number reported during the session.
The ECB's three-year liquidity injection boosted the risk-prone local unit as the money was expected to find a home in emerging market assets such as the rand through carry trades, where investors use lower-yielding currencies to buy riskier and higher yielding assets.
The rand gained 0.6 percent on the euro and 0.9 percent on the dollar during the session.
South Africa's trade account showed a gaping 13.5 billion rand hole in January, nearly 10 billion rand wider than market expectations and the biggest trade deficit since January 2009.
However the rand was hardly moved by the weak data.
"The trade data had limited impact on the rand, the long term refinancing operation has provided nice cushions and dollar/rand remains at fresh year-to-date lows," said Gabor Ambrus, emerging market analyst at 4Cast.
The rand broke through 7.52/50 resistance late in the previous session, which opened an easy path to the lower 7.40's. It traded at a five-month high of 7.4020 in Wednesday's session.
"All emerging market currencies firmed, the take-up was a little more than expected and even though (the LTRO) was expected, that's a lot of new money looking for carry," Ambrus added.
Government bonds firmed slightly on the risk supportive sentiment. The yield on the 2015 note gave up 2.5 basis points to 6.61 percent while that on the 2026 issue dropped 3.5 basis points to 8.23 percent.
Wed, 29 Feb 2012
Top News
Growing global bullishness may erode South African stocks' perceived safe haven status, which helped them outperform many emerging markets last year despite infrastructure bottlenecks, political risk and rand volatility.

---

Heavy fighting raged near Baba Amro in Homs on Wednesday after elite Syrian troops attacked the rebel-held bastion that has endured 25 days of siege and fierce bombardment, activists said.

Iranian firm AHT exports millions of dollars worth of nuts and dried fruit from Iran each month but Western financial sanctions mean it gets little money in return. Instead it is paid with other goods, such as cardboard boxes and metal cans from China.
World Markets (Spot Prices)
| | | | | |
| --- | --- | --- | --- | --- |
| Name | Time | RP | Move | % Move |
| JSE Overall | 17:00 | 34296.00 | 81.47 | 0.24% |
| JSE Top 40 | 17:00 | 30546.69 | 62.35 | 0.20% |
| JSE Gold | 17:00 | 2757.57 | -11.87 | -0.43% |
| JSE Financial | 17:00 | 24526.39 | -33.92 | -0.14% |
| JSE Industrial | 17:00 | 36889.80 | 184.97 | 0.50% |
| JSE Indust 25 | 17:00 | 30953.15 | 165.13 | 0.54% |
| JSE Resource | 17:00 | 53857.89 | 61.75 | 0.11% |
| DJ Futures | 19:50 | 12982.00 | -15.00 | -0.12% |
| DJ Ind | 19:45 | 12991.61 | -13.51 | -0.10% |
| SP 500 | 20:00 | 1369.99 | -2.19 | -0.16% |
| Nasdaq | 20:00 | 2981.52 | -5.24 | -0.18% |
| FTSE 100 | 18:35 | 5871.51 | -56.40 | -0.95% |
| DAX | 19:06 | 6856.08 | -31.55 | -0.46% |
| CAC40 | 19:06 | 3452.45 | -1.54 | -0.04% |
| Nikkei | 08:26 | 9723.24 | .72 | 0.01% |
| Shanghai | 09:26 | 2428.49 | -23.37 | -0.95% |
| Hang-Seng | 10:26 | 21680.08 | 111.35 | 0.52% |
| All Ords | 07:44 | 4388.10 | 36.90 | 0.85% |
| NZSE 50 | 06:46 | 3322.53 | 12.73 | 0.38% |

| | | | | |
| --- | --- | --- | --- | --- |
| Name | Time | RP | Move | % Move |
| Gold | 19:57 | 1721.12 | -63.22 | -3.54% |
| Gold/Rand | 20:00 | 12827.68 | -516.54 | -3.87% |
| Gold/R kg | 20:00 | 412410 | -19273 | -4.46% |
| Silver | 19:58 | 34.9920 | -1.9560 | -5.29% |
| Platinum | 19:58 | 1690.00 | -28.00 | -1.63% |
| Palladium | 19:58 | 705.80 | -8.40 | -1.18% |
| R157 | 09:06 | 6.60 | -.03 | -0.45% |
| R204 | 17:06 | 7.48 | -.02 | -0.27% |
| Brent Crude | 19:56 | 122.23 | -1.53 | -1.24% |
| Rand / Dollar | 19:58 | 7.4531 | -0.0268 | -0.36% |
| Rand / Pound | 19:55 | 11.8517 | -0.0144 | -0.12% |
| Rand / Euro | 19:55 | 9.9546 | -0.1166 | -1.16% |
| Rand / NZD | 19:57 | 6.2485 | -0.0208 | -0.33% |
| Rand / AUD | 19:55 | 8.0365 | -0.0275 | -0.34% |
| Yen / Dollar | 19:58 | 81.0090 | 0.5240 | 0.65% |
| Euro / Dollar | 19:55 | 0.7485 | 0.0060 | 0.81% |
| Dollar / Euro | 19:58 | 1.3357 | -0.0105 | -0.78% |
| Pound / Dollar | 19:55 | 0.6270 | -0.0017 | -0.27% |
Click here for the Sharenet Spot Price page
The JSE Today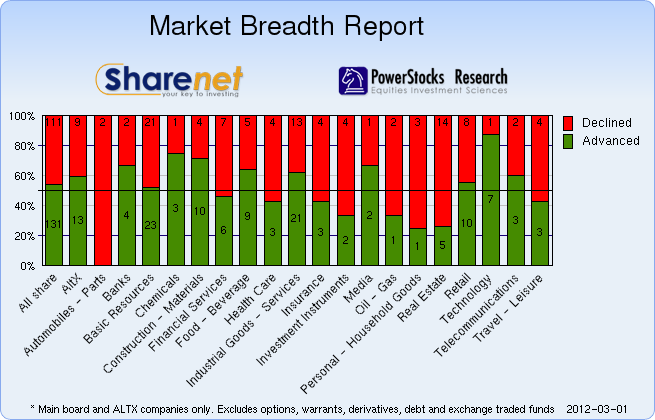 Trading Statistics
| Date | Adv. | Decl. | Unch. | Actives | Volume | Value | Trades | Orders |
| --- | --- | --- | --- | --- | --- | --- | --- | --- |
| 29/02/2012 | 184 | 168 | 86 | 438 | 354,539,089 | R17,174,701,962 | 117157 | 2328994 |
| 28/02/2012 | 223 | 120 | 83 | 426 | 254,843,756 | R11,337,286,782 | 94726 | 2306259 |
| 27/02/2012 | 116 | 227 | 90 | 433 | 290,949,224 | R9,617,354,453 | 81534 | 2108720 |
| 24/02/2012 | 175 | 158 | 86 | 419 | 283,345,148 | R14,343,158,399 | 103811 | 2091555 |
| 23/02/2012 | 165 | 168 | 86 | 419 | 461,389,422 | R14,075,753,347 | 100485 | 2107216 |
* Includes all listed instruments on the JSE
---
---
---
Index Summary
| | | | |
| --- | --- | --- | --- |
| Index Name | RP | Move | % Move |
| Top 40 | 30,546.69 | 62.35 | 0.20% |
| Industrial | 36,889.80 | 184.97 | 0.50% |
| Mid Cap | 46,937.34 | 214.35 | 0.46% |
| Small Cap | 35,134.05 | 41.05 | 0.12% |
| Resource 20 | 53,857.89 | 61.75 | 0.11% |
| Industrial 25 | 30,953.15 | 165.13 | 0.54% |
| Financial 15 | 9,322.96 | -13.02 | -0.14% |
| Financial & Ind. 30 | 34,631.51 | 94.09 | 0.27% |
| All Share | 34,296.00 | 81.47 | 0.24% |
| Oil & Gas | 30,258.47 | -121.08 | -0.40% |
| Mining | 34,742.58 | 72.48 | 0.21% |
| Gold Mining | 2,757.57 | -11.87 | -0.43% |
| Platinum Mining | 63.72 | .77 | 1.22% |
| GENERAL MINING | 8,681.89 | 14.86 | 0.17% |
| Oil & Gas Producers | 16,269.42 | -65.10 | -0.40% |
| Basic Materials | 29,614.54 | 70.32 | 0.24% |
| Chemicals | 15,324.49 | 39.30 | 0.26% |
| Forestry & Paper | 13,804.74 | -48.64 | -0.35% |
| Industrial Metals | 32,665.04 | 388.37 | 1.20% |
| Industrials | 32,204.78 | 305.87 | 0.96% |
| General Industrials | 89,745.59 | 700.45 | 0.79% |
| Consumer Goods | 31,554.21 | 14.30 | 0.05% |
| Automobiles & Parts | 4,945.58 | -2.26 | -0.05% |
| Household Goods | 176.47 | -1 | -0.56% |
| Health Care | 38,102.40 | 59.73 | 0.16% |
| Beverages | 104.29 | -.15 | -0.14% |

| | | | |
| --- | --- | --- | --- |
| Index Name | RP | Move | % Move |
| Food Producers | 57,938.51 | 725.73 | 1.27% |
| Personal Goods | 460.93 | .50 | 0.11% |
| Consumer Services | 62,984.13 | 634.88 | 1.02% |
| General Retailers | 52,486.09 | 741.48 | 1.43% |
| Travel & Leisure | 3,660.74 | -20.71 | -0.56% |
| Media | 91.47 | 1.51 | 1.68% |
| Support Services | 2,495.11 | 52.26 | 2.14% |
| Telecommunications | 67,288.09 | 412.65 | 0.62% |
| Financials | 24,526.39 | -33.92 | -0.14% |
| Banks | 46,458.33 | 21.69 | 0.05% |
| Non-life Insurance | 40,714.23 | 1188.21 | 3.01% |
| Life Insurance | 19,582.52 | -102.26 | -0.52% |
| General Financial | 2,354.95 | 4.14 | 0.18% |
| Technology | 27,437.83 | 179.83 | 0.66% |
| SHARIAH TOP40 | 3,207.60 | 7 | 0.23% |
| FTSE/JSE SHARIAH ALL | 3,296.82 | 9 | 0.29% |
| COAL MINING | 28,189.55 | 342 | 1.23% |
| FTSE JSE Fledgling | 5,235.11 | 32 | 0.62% |
| FTSE/JSE Alt X | 1,363.71 | 4 | 0.30% |
| SA LISTED PROPERTY | 408.43 | | -0.42% |
| CAPPED PROPERTY | 330.22 | | -0.51% |
| RESOURCE | 29,775.88 | 35 | 0.12% |
| DIVIDEND PLUS | 196.61 | 0 | 0.19% |
| FTSE/JSE RAFI 40 | 7,180.70 | 13 | 0.19% |
| Capped Top 40 | 16,101.08 | 34 | 0.21% |
| Capped All Share | 17,343.73 | 42 | 0.24% |
| JSE TABACO | 4,830.43 | -13 | -0.26% |
Click here for the Sharenet Index Summary page
---
Latest Consensus Changes**

| | | | |
| --- | --- | --- | --- |
| Code | Company Name | Status | Updated |
| NED | NEDBANK GROUP LTD | HOLD | 27 Feb |
| SBK | STANDARD BANK GROUP LIMIT... | SELL | 27 Feb |
| AIP | ADCOCK INGRAM HLGS LD | HOLD | 27 Feb |
| IPF | INVESTEC PROPERTY FUND LT... | HOLD | 27 Feb |
| LHC | LIFE HEALTHCARE GRP HLDG ... | HOLD | 27 Feb |

Results Expected**

| | | |
| --- | --- | --- |
| Expected | Company Name | Fin. Date |
| 01 Mar 2012 | METOREX | December 2011 (Final) |
| 01 Mar 2012 | METOREXNPL | December 2011 (Final) |
| 01 Mar 2012 | SHFINV-PREF | December 2011 (Interim) |
| 01 Mar 2012 | SPURCORP | December 2011 (Interim) |
| 01 Mar 2012 | STEINHOFF | December 2011 (Interim) |
---
Recent Dividends**

| | | | | |
| --- | --- | --- | --- | --- |
| Share Name | Dec-Date | LDT | Pay-Date | Amount |
| AFGRI | 12-02-29 | 12-03-15 | 12-03-26 | R 0.1845 |
| HYPROP | 12-02-29 | 12-03-15 | 12-03-26 | R 1.3700 |
| RMBH | 12-02-29 | 12-03-15 | 12-03-26 | R 0.5200 |
| CAPCO | 12-02-29 | 12-05-11 | 12-06-21 | R 0.0100 |
| NEDBANK-P | 12-02-29 | 12-03-15 | 12-03-26 | R 0.3403 |

Ex Div**

| | | | | |
| --- | --- | --- | --- | --- |
| Share Name | Dec-Date | LDT | Pay-Date | Amount |
| PALAMIN | 12-02-06 | 12-02-24 | 12-03-05 | R 2.0700 |
| ZURICH SA | 12-02-06 | 12-02-24 | 12-03-05 | R 2.0000 |
| RESILIENT | 12-02-08 | 12-02-24 | 12-03-05 | R 1.2135 |
| BHPBILL | 12-02-08 | 12-02-24 | 12-03-22 | R 0.5500 |
| NEPI | 12-02-08 | 12-02-24 | 12-03-05 | R 0.1048 |
---
Upcoming AGMs**

| | | | |
| --- | --- | --- | --- |
| Code | Company Name | Date | Status |
| JDH | John Daniel Holdings Ltd. | 02/03/2012 | Confirmed |
| EOH | EOH Holdings Ltd | 06/03/2012 | Confirmed |
---
Stock Exchange News Service
Click here for more SENS news
---