Tuesday, 21 February 2012 - 20:00
Charts
Top News
Gold rose about 1 percent on Tuesday, outpacing gains in the euro and equities, as a massive European bailout deal had investors buying the metal amid doubts the bailout will work.

---

Syrian government forces killed more than 60 people on Tuesday in assaults on villages and an artillery barrage in the restive city of Homs, activists said, and the Red Cross called for daily ceasefires to let in urgently needed aid.

Yemen pushed Ali Abdullah Saleh from power after 33 years Tuesday, voting to install his deputy as president with a mission to rescue the nation from poverty, chaos and the brink of civil war.
World Markets (Spot Prices)
| | | | | |
| --- | --- | --- | --- | --- |
| Name | Time | RP | Move | % Move |
| JSE Overall | 17:00 | 34142.37 | 36.37 | 0.11% |
| JSE Top 40 | 17:00 | 30438.34 | 44.40 | 0.15% |
| JSE Gold | 17:00 | 2803.73 | 8.98 | 0.32% |
| JSE Financial | 17:00 | 24249.88 | -35.05 | -0.14% |
| JSE Industrial | 17:00 | 36441.83 | -33.60 | -0.09% |
| JSE Indust 25 | 17:00 | 30571.72 | -31.10 | -0.10% |
| JSE Resource | 17:00 | 54418.79 | 263.36 | 0.49% |
| DJ Futures | 19:46 | 12970.00 | -27.00 | -0.21% |
| DJ Ind | 19:45 | 12992.03 | 42.16 | 0.33% |
| SP 500 | 20:00 | 1366.12 | 4.89 | 0.36% |
| Nasdaq | 20:00 | 2955.81 | 4.03 | 0.14% |
| FTSE 100 | 18:35 | 5928.20 | -17.05 | -0.29% |
| DAX | 19:06 | 6908.18 | -40.07 | -0.58% |
| CAC40 | 19:06 | 3465.24 | -7.30 | -0.21% |
| Nikkei | 08:26 | 9463.02 | -22.07 | -0.23% |
| Shanghai | 09:26 | 2381.43 | 17.83 | 0.75% |
| Hang-Seng | 10:26 | 21478.72 | 53.93 | 0.25% |
| All Ords | 07:38 | 4368.20 | 35.40 | 0.82% |
| NZSE 50 | 06:46 | 3337.32 | 21.75 | 0.66% |

| | | | | |
| --- | --- | --- | --- | --- |
| Name | Time | RP | Move | % Move |
| Gold | 19:59 | 1751.57 | 16.92 | 0.98% |
| Gold/Rand | 20:00 | 13518.09 | 271.42 | 2.05% |
| Gold/R kg | 20:00 | 434607 | 7304 | 1.71% |
| Silver | 19:59 | 34.1200 | .5900 | 1.76% |
| Platinum | 19:59 | 1678.50 | 34.50 | 2.10% |
| Palladium | 19:59 | 707.90 | 16.10 | 2.33% |
| R157 | 17:06 | 6.61 | .03 | 0.46% |
| R204 | 17:06 | 7.48 | .03 | 0.40% |
| Brent Crude | 19:56 | 121.82 | .27 | 0.22% |
| Rand / Dollar | 19:59 | 7.7177 | 0.0466 | 0.61% |
| Rand / Pound | 19:55 | 12.1601 | 0.0412 | 0.34% |
| Rand / Euro | 19:55 | 10.2258 | 0.0750 | 0.74% |
| Rand / NZD | 19:58 | 6.4548 | 0.0231 | 0.36% |
| Rand / AUD | 19:55 | 8.2513 | 0.0113 | 0.14% |
| Yen / Dollar | 19:59 | 79.7260 | 0.1040 | 0.13% |
| Euro / Dollar | 19:55 | 0.7543 | -0.0011 | -0.15% |
| Dollar / Euro | 19:59 | 1.3247 | 0.0016 | 0.12% |
| Pound / Dollar | 19:55 | 0.6327 | 0.0016 | 0.25% |
Click here for the Sharenet Spot Price page
The JSE Today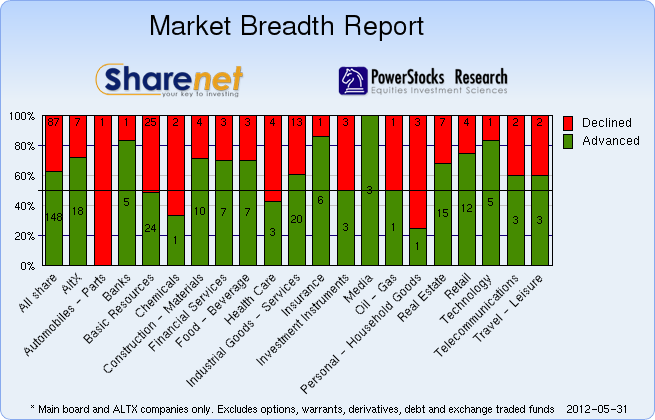 Trading Statistics
| Date | Adv. | Decl. | Unch. | Actives | Volume | Value | Trades | Orders |
| --- | --- | --- | --- | --- | --- | --- | --- | --- |
| 21/02/2012 | 164 | 155 | 81 | 400 | 250,963,560 | R12,117,791,523 | 74201 | 2133714 |
| 20/02/2012 | 180 | 144 | 85 | 409 | 195,412,533 | R8,972,011,057 | 65519 | 1867969 |
| 17/02/2012 | 244 | 99 | 82 | 425 | 247,100,254 | R11,957,838,675 | 92849 | 2155145 |
| 16/02/2012 | 124 | 238 | 75 | 437 | 249,958,244 | R15,415,618,974 | 109642 | 2521337 |
| 15/02/2012 | 178 | 151 | 82 | 411 | 294,220,561 | R14,981,535,895 | 103538 | 2387614 |
* Includes all listed instruments on the JSE
---
---
---
Index Summary
| | | | |
| --- | --- | --- | --- |
| Index Name | RP | Move | % Move |
| Top 40 | 30,438.34 | 44.40 | 0.15% |
| Industrial | 36,441.83 | -33.60 | -0.09% |
| Mid Cap | 46,478.76 | -86.11 | -0.18% |
| Small Cap | 34,933.19 | 149.71 | 0.43% |
| Resource 20 | 54,418.79 | 263.36 | 0.49% |
| Industrial 25 | 30,571.72 | -31.10 | -0.10% |
| Financial 15 | 9,185.32 | -13.59 | -0.15% |
| Financial & Ind. 30 | 34,181.25 | -37.96 | -0.11% |
| All Share | 34,142.37 | 36.37 | 0.11% |
| Oil & Gas | 30,307.66 | -113.51 | -0.37% |
| Mining | 35,107.63 | 227.34 | 0.65% |
| Gold Mining | 2,803.73 | 8.98 | 0.32% |
| Platinum Mining | 61.67 | -.26 | -0.42% |
| GENERAL MINING | 8,838.78 | 82.14 | 0.94% |
| Oil & Gas Producers | 16,295.87 | -61.03 | -0.37% |
| Basic Materials | 29,809.69 | 182.09 | 0.61% |
| Chemicals | 15,000.56 | -57.76 | -0.38% |
| Forestry & Paper | 13,432.50 | 83.16 | 0.62% |
| Industrial Metals | 31,319.32 | 39.21 | 0.13% |
| Industrials | 31,315.81 | -76.05 | -0.24% |
| General Industrials | 87,497.82 | -474.41 | -0.54% |
| Consumer Goods | 31,492.28 | -88.98 | -0.28% |
| Automobiles & Parts | 4,913.87 | 235.50 | 5.03% |
| Household Goods | 167.01 | 1 | 0.55% |
| Health Care | 37,987.52 | 280.82 | 0.74% |
| Beverages | 104.91 | -.51 | -0.48% |

| | | | |
| --- | --- | --- | --- |
| Index Name | RP | Move | % Move |
| Food Producers | 56,578.25 | -313.07 | -0.55% |
| Personal Goods | 461.43 | -1.00 | -0.22% |
| Consumer Services | 61,801.98 | 120.82 | 0.20% |
| General Retailers | 51,726.63 | 82.04 | 0.16% |
| Travel & Leisure | 3,718.52 | 1.50 | 0.04% |
| Media | 88.54 | -.23 | -0.26% |
| Support Services | 2,349.21 | -4.48 | -0.19% |
| Telecommunications | 66,813.62 | -173.08 | -0.26% |
| Financials | 24,249.88 | -35.05 | -0.14% |
| Banks | 45,554.54 | 26.00 | 0.06% |
| Non-life Insurance | 36,160.25 | -96.99 | -0.27% |
| Life Insurance | 19,442.90 | -86.36 | -0.44% |
| General Financial | 2,318.01 | -6.14 | -0.26% |
| Technology | 26,644.37 | -56.93 | -0.21% |
| SHARIAH TOP40 | 3,215.05 | 10 | 0.31% |
| FTSE/JSE SHARIAH ALL | 3,297.72 | 9 | 0.27% |
| COAL MINING | 26,778.80 | -19 | -0.07% |
| FTSE JSE Fledgling | 5,211.21 | 15 | 0.28% |
| FTSE/JSE Alt X | 1,236.72 | -10 | -0.84% |
| SA LISTED PROPERTY | 409.48 | | -0.08% |
| CAPPED PROPERTY | 333.27 | | -0.12% |
| RESOURCE | 30,049.04 | 149 | 0.50% |
| DIVIDEND PLUS | 192.90 | -1 | -0.35% |
| FTSE/JSE RAFI 40 | 7,137.60 | 3 | 0.05% |
| Capped Top 40 | 16,023.47 | 17 | 0.11% |
| Capped All Share | 17,259.59 | 17 | 0.10% |
| JSE TABACO | 4,855.73 | 7 | 0.15% |
Click here for the Sharenet Index Summary page
---
Latest Consensus Changes**

| | | | |
| --- | --- | --- | --- |
| Code | Company Name | Status | Updated |
| REM | REMGRO LIMITED | BUY | 17 Feb |
| ANG | ANGLOGOLD ASHANTI LIMITED | BUY | 16 Feb |
| AMS | ANGLO AMERICAN PLATINUM C... | BUY | 16 Feb |
| AGL | ANGLO AMERICAN PLC | BUY | 16 Feb |
| EMI | EMIRA PROPERTY FUND | BUY | 16 Feb |

Results Expected**

| | | |
| --- | --- | --- |
| Expected | Company Name | Fin. Date |
| 22 Feb 2012 | BLUETEL | November 2011 (Interim) |
| 22 Feb 2012 | BRIMST-N | December 2011 (Final) |
| 22 Feb 2012 | BRIMSTON | December 2011 (Final) |
| 22 Feb 2012 | FERRUM | December 2011 (Interim) |
| 22 Feb 2012 | HOSP-A | December 2011 (Interim) |
---
Recent Dividends**

| | | | | |
| --- | --- | --- | --- | --- |
| Share Name | Dec-Date | LDT | Pay-Date | Amount |
| ONELOGIX | 12-02-20 | 12-03-15 | 12-03-26 | R 0.0180 |
| ONELOGIX | 12-02-20 | 12-03-15 | 12-03-26 | R 0.0270 |
| WBHO | 12-02-20 | 12-04-04 | 12-04-16 | R 1.1000 |
| CAPEVIN | 12-02-17 | 12-03-09 | 12-03-19 | R 1.9840 |
| GFIELDS | 12-02-17 | 12-03-02 | 12-03-12 | R 2.3000 |

Ex Div**

| | | | | |
| --- | --- | --- | --- | --- |
| Share Name | Dec-Date | LDT | Pay-Date | Amount |
| FIRSTRANDB-P | 12-02-03 | 12-02-17 | 12-02-27 | R 3.0516 |
| CAPITAL | 12-02-01 | 12-02-17 | 12-02-27 | R 0.3427 |
| CULINAN5.5 | 12-02-03 | 12-02-17 | 12-02-27 | R 0.0550 |
---
Upcoming AGMs**

| | | | |
| --- | --- | --- | --- |
| Code | Company Name | Date | Status |
| RDF | Redefine Properties Ltd | 22/02/2012 | Confirmed |
| CULP | Cullinan Holdings Ltd | 23/02/2012 | Confirmed |
| CUP3 | Cullinan Holdings Ltd | 23/02/2012 | Confirmed |
| KEL | Kelly Group Ltd | 23/02/2012 | Confirmed |
| CUL | Cullinan Holdings Ltd | 23/02/2012 | Confirmed |
---
Stock Exchange News Service
Click here for more SENS news
---