Monday, 13 February 2012 - 20:00
Charts
Top News
The South African rand strengthened against the dollar on Monday but relinquished some of its earlier gains in an uncertain market still awaiting a resolution to Greece's debt woes.

---

Venezuelan opposition leader Henrique Capriles easily won a primary election on Sunday to become the unity candidate against President Hugo Chavez, vowing to end 13 years of socialist rule that he said has left the OPEC nation in crisis.

Greeks swept rocks and broken glass from the streets of Athens on Monday after a night of violence that gave lawmakers a taste of the challenge they face in implementing a deeply unpopular austerity bill demanded by the country's foreign lenders.
World Markets (Spot Prices)
| | | | | |
| --- | --- | --- | --- | --- |
| Name | Time | RP | Move | % Move |
| JSE Overall | 17:00 | 34207.43 | 314.85 | 0.93% |
| JSE Top 40 | 17:00 | 30530.87 | 320.43 | 1.06% |
| JSE Gold | 17:00 | 2918.79 | -6.66 | -0.23% |
| JSE Financial | 17:00 | 24199.40 | 179.98 | 0.75% |
| JSE Industrial | 17:00 | 36137.33 | 228.90 | 0.64% |
| JSE Indust 25 | 17:00 | 30300.70 | 212.13 | 0.71% |
| JSE Resource | 17:00 | 55376.97 | 798.92 | 1.46% |
| DJ Futures | 19:06 | 12820.00 | 53.00 | 0.42% |
| DJ Ind | 19:45 | 12858.03 | 56.80 | 0.44% |
| SP 500 | 20:00 | 1349.53 | 6.89 | 0.51% |
| Nasdaq | 20:00 | 2923.06 | 19.18 | 0.66% |
| FTSE 100 | 18:35 | 5905.70 | 53.31 | 0.91% |
| DAX | 19:06 | 6738.47 | 45.51 | 0.68% |
| CAC40 | 19:06 | 3384.55 | 11.41 | 0.34% |
| Nikkei | 08:26 | 8999.18 | 52.01 | 0.58% |
| Shanghai | 09:46 | 2351.85 | -.13 | -0.01% |
| Hang-Seng | 10:26 | 20887.40 | 103.54 | 0.50% |
| All Ords | 07:35 | 4359.40 | 36.80 | 0.85% |
| NZSE 50 | 06:46 | 3340.02 | -8.11 | -0.24% |

| | | | | |
| --- | --- | --- | --- | --- |
| Name | Time | RP | Move | % Move |
| Gold | 19:59 | 1722.70 | .55 | 0.03% |
| Gold/Rand | 20:00 | 13254.80 | 22.90 | 0.17% |
| Gold/R kg | 20:00 | 426142 | 2765 | 0.65% |
| Silver | 19:59 | 33.6010 | -.0740 | -0.22% |
| Platinum | 19:58 | 1641.75 | -12.70 | -0.77% |
| Palladium | 19:58 | 695.75 | -2.63 | -0.38% |
| R157 | 17:06 | 6.57 | -.06 | -0.90% |
| R204 | 17:06 | 7.50 | -.07 | -0.92% |
| Brent Crude | 19:56 | 117.95 | .74 | 0.63% |
| Rand / Dollar | 19:59 | 7.6942 | 0.0124 | 0.16% |
| Rand / Pound | 19:55 | 12.1069 | 0.0029 | 0.02% |
| Rand / Euro | 19:55 | 10.1607 | -0.0144 | -0.14% |
| Rand / NZD | 19:58 | 6.4256 | 0.0443 | 0.69% |
| Rand / AUD | 19:55 | 8.2675 | 0.0370 | 0.45% |
| Yen / Dollar | 19:59 | 77.5840 | -0.0880 | -0.11% |
| Euro / Dollar | 19:55 | 0.7570 | 0.0019 | 0.25% |
| Dollar / Euro | 19:58 | 1.3203 | -0.0031 | -0.23% |
| Pound / Dollar | 19:55 | 0.6335 | 0.0005 | 0.08% |
Click here for the Sharenet Spot Price page
The JSE Today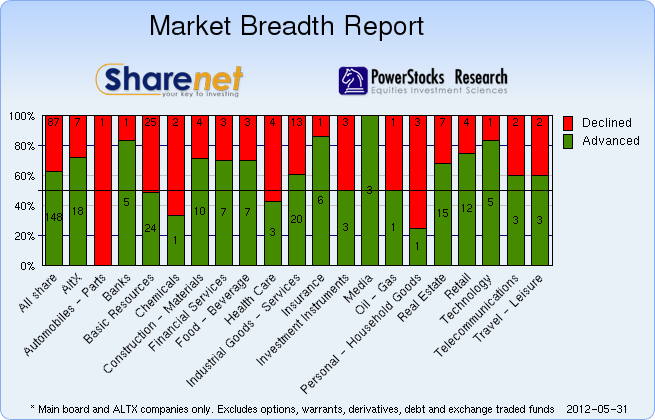 Trading Statistics
| Date | Adv. | Decl. | Unch. | Actives | Volume | Value | Trades | Orders |
| --- | --- | --- | --- | --- | --- | --- | --- | --- |
| 13/02/2012 | 231 | 122 | 62 | 415 | 218,668,342 | R10,274,460,185 | 88735 | 1961458 |
| 10/02/2012 | 118 | 217 | 75 | 410 | 282,515,265 | R13,256,763,421 | 99546 | 2088274 |
| 09/02/2012 | 179 | 151 | 64 | 394 | 279,240,164 | R17,071,838,150 | 106584 | 2321130 |
| 08/02/2012 | 215 | 129 | 80 | 424 | 277,799,379 | R14,664,968,604 | 113106 | 1831988 |
| 07/02/2012 | 135 | 196 | 96 | 427 | 237,949,647 | R14,879,226,323 | 105157 | 2483366 |
* Includes all listed instruments on the JSE
---
---
---
Index Summary
| | | | |
| --- | --- | --- | --- |
| Index Name | RP | Move | % Move |
| Top 40 | 30,530.87 | 320.43 | 1.06% |
| Industrial | 36,137.33 | 228.90 | 0.64% |
| Mid Cap | 46,387.67 | 131.55 | 0.28% |
| Small Cap | 34,438.88 | 54.62 | 0.16% |
| Resource 20 | 55,376.97 | 798.92 | 1.46% |
| Industrial 25 | 30,300.70 | 212.13 | 0.71% |
| Financial 15 | 9,161.89 | 86.23 | 0.95% |
| Financial & Ind. 30 | 33,941.70 | 268.67 | 0.80% |
| All Share | 34,207.43 | 314.85 | 0.93% |
| Oil & Gas | 30,193.39 | 52.21 | 0.17% |
| Mining | 35,829.41 | 562.74 | 1.60% |
| Gold Mining | 2,918.79 | -6.66 | -0.23% |
| Platinum Mining | 62.26 | .81 | 1.32% |
| GENERAL MINING | 8,991.13 | 190.05 | 2.16% |
| Oil & Gas Producers | 16,234.43 | 28.08 | 0.17% |
| Basic Materials | 30,371.38 | 461.61 | 1.54% |
| Chemicals | 14,862.65 | 322.78 | 2.22% |
| Forestry & Paper | 12,894.06 | 192.42 | 1.51% |
| Industrial Metals | 32,266.15 | 99.81 | 0.31% |
| Industrials | 31,202.78 | 193.57 | 0.62% |
| General Industrials | 87,634.43 | 361.31 | 0.41% |
| Consumer Goods | 31,213.52 | 200.93 | 0.65% |
| Automobiles & Parts | 4,642.14 | .00 | 0.00% |
| Household Goods | 168.52 | -0 | -0.15% |
| Health Care | 37,539.96 | 186.53 | 0.50% |
| Beverages | 104.98 | .76 | 0.73% |

| | | | |
| --- | --- | --- | --- |
| Index Name | RP | Move | % Move |
| Food Producers | 56,497.80 | -113.34 | -0.20% |
| Personal Goods | 446.45 | 6.49 | 1.48% |
| Consumer Services | 60,289.05 | 235.60 | 0.39% |
| General Retailers | 50,801.66 | 206.60 | 0.41% |
| Travel & Leisure | 3,705.90 | -5.26 | -0.14% |
| Media | 85.52 | .23 | 0.27% |
| Support Services | 2,320.11 | 9.45 | 0.41% |
| Telecommunications | 67,370.60 | 609.47 | 0.91% |
| Financials | 24,199.40 | 179.98 | 0.75% |
| Banks | 45,368.75 | 452.11 | 1.01% |
| Non-life Insurance | 35,643.74 | -608.65 | -1.68% |
| Life Insurance | 19,417.13 | 171.27 | 0.89% |
| General Financial | 2,305.23 | 17.13 | 0.75% |
| Technology | 27,211.01 | -73.77 | -0.27% |
| SHARIAH TOP40 | 3,246.01 | 41 | 1.28% |
| FTSE/JSE SHARIAH ALL | 3,325.20 | 39 | 1.18% |
| COAL MINING | 27,218.31 | 165 | 0.61% |
| FTSE JSE Fledgling | 5,079.18 | 20 | 0.39% |
| FTSE/JSE Alt X | 1,239.36 | -2 | -0.19% |
| SA LISTED PROPERTY | 411.16 | | 0.00% |
| CAPPED PROPERTY | 334.74 | | 0.27% |
| RESOURCE | 30,557.85 | 418 | 1.39% |
| DIVIDEND PLUS | 192.84 | 1 | 0.60% |
| FTSE/JSE RAFI 40 | 7,155.00 | 78 | 1.10% |
| Capped Top 40 | 16,066.16 | 161 | 1.01% |
| Capped All Share | 17,292.81 | 157 | 0.92% |
| JSE TABACO | 4,857.78 | -30 | -0.61% |
Click here for the Sharenet Index Summary page
---
Latest Consensus Changes**

| | | | |
| --- | --- | --- | --- |
| Code | Company Name | Status | Updated |
| DSY | DISCOVERY HOLDINGS LIMITE... | BUY | 09 Feb |
| LBH | LIBERTY HOLDINGS LTD ORD | HOLD | 09 Feb |
| SOL | SASOL LIMITED | BUY | 09 Feb |
| SLM | SANLAM LIMITED | HOLD | 09 Feb |
| HSP | HOLDSPORT LIMITED | BUY | 08 Feb |

Results Expected**

| | | |
| --- | --- | --- |
| Expected | Company Name | Fin. Date |
| 14 Feb 2012 | COMAIR | December 2011 (Interim) |
| 14 Feb 2012 | COMAIRN | December 2011 (Interim) |
| 14 Feb 2012 | DRDLD | December 2011 (Interim) |
| 14 Feb 2012 | DRDLDCP | December 2011 (Interim) |
| 14 Feb 2012 | FIURANIUM | December 2011 (Q) |
---
Recent Dividends**

| | | | | |
| --- | --- | --- | --- | --- |
| Share Name | Dec-Date | LDT | Pay-Date | Amount |
| AMPLATS | 12-02-13 | 12-03-09 | 12-03-19 | R 2.0000 |
| GROUP 5 | 12-02-13 | 12-04-13 | 12-04-23 | R 0.2200 |
| SHPRT 2ND5 | 12-02-10 | 12-02-24 | 12-03-05 | R 0.0500 |
| SHPRT 3RD5 | 12-02-10 | 12-02-24 | 12-03-05 | R 0.0500 |
| ABSABANK-P | 12-02-10 | 12-03-23 | 12-04-02 | R 28.2720 |

Ex Div**

| | | | | |
| --- | --- | --- | --- | --- |
| Share Name | Dec-Date | LDT | Pay-Date | Amount |
| WINHOLD | 11-11-28 | 12-02-10 | 12-02-20 | R 0.0700 |
---
Upcoming AGMs**

| | | | |
| --- | --- | --- | --- |
| Code | Company Name | Date | Status |
| SPP | The SPAR Group Ltd | 14/02/2012 | Confirmed |
| TBS | Tiger Brands Ltd | 14/02/2012 | Confirmed |
| RLZP | Reunert Ltd | 15/02/2012 | Confirmed |
| RLP | Reunert Ltd | 15/02/2012 | Confirmed |
| RLO | Reunert Ltd | 15/02/2012 | Confirmed |
---
Stock Exchange News Service
Click here for more SENS news
---